| | | | | | |
| --- | --- | --- | --- | --- | --- |
| 原産地: | 中国(本土) | 銘柄: | aboel | モデル番号: | abb201 |
包装
| | |
| --- | --- |
| 包装: | 24pcs/ctnn。 w。: 6.5kgg。 w。: 7.5kgmeas。: 410*310*315mm |
仕様
Professional Pro-X Advanced Cleansing System Facial salon equipment ABB201
Features
1. Using electricity to make the massage head vibrate so as to massage on the human body.
2. Beautiful, practical and affordable with novel design and exquisite packing.
3. Waterproof with strong power: convenient for bathroom usage
4. Deeply cleaning skin, effectively exfoliating of dead skin cells to reveal a radiant, youthful skin.
5. Compact and portable design, 4 replaceable applicators included: a) Big brush: Exfoliates and clean hand skin and body skin
b) Face brush: Exfoliates and clean face skin
c) Pumice: Polish and remove rough callus skin under foot or elbow
d) Sponge: Moisturize face skin
Specifications
1. Power supply: 6V, 4pcs AA batteries (not included)
2. Unit size: 176.5*76*47mm
3. Unit weight: around 128g
4. Material of main case: PP
5. Gift box size: 195*146*51mm
6. Accessories: 4 replaceable applicators(big brush, face brush, pumice, sponge)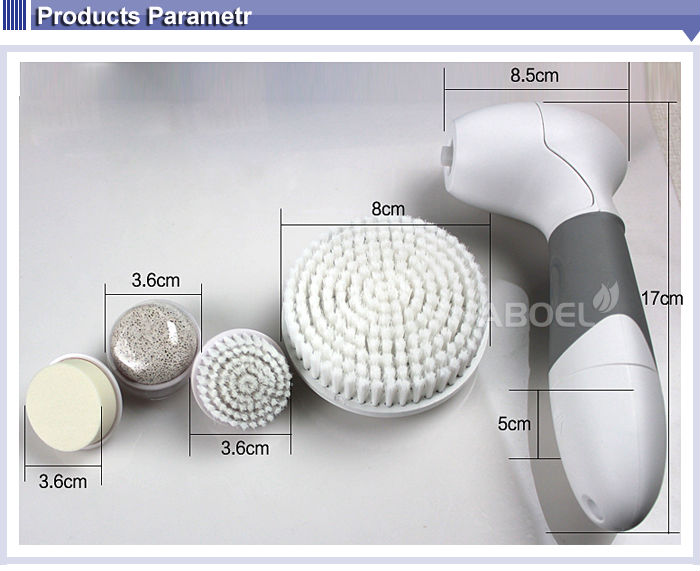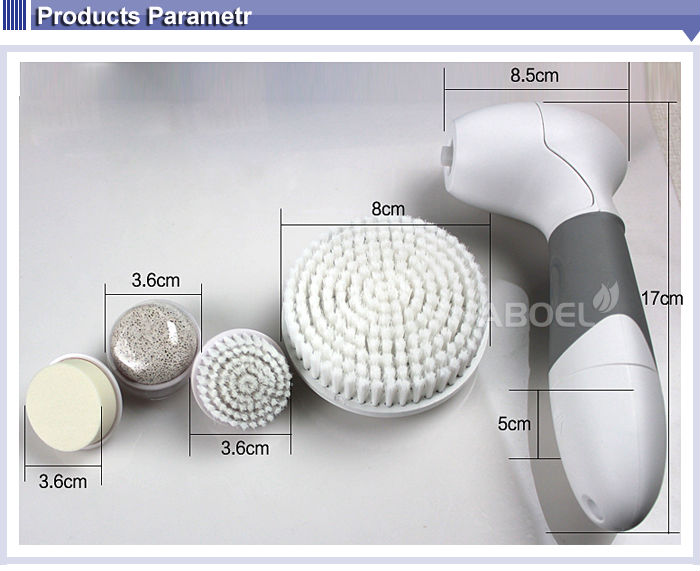 Preparing the unit for usage
Use one hand hold the unit downward and the other hand hold battery cap with thumb at the "open" mark position.
Pull off the cap.
Insert 4pcs AA batteries inside the unit, match the +/- symbols on the battery with the +/- marks on the battery case.(Notes: Please make sure your hands are dry when inserting the batteries)
Install the battery cover well.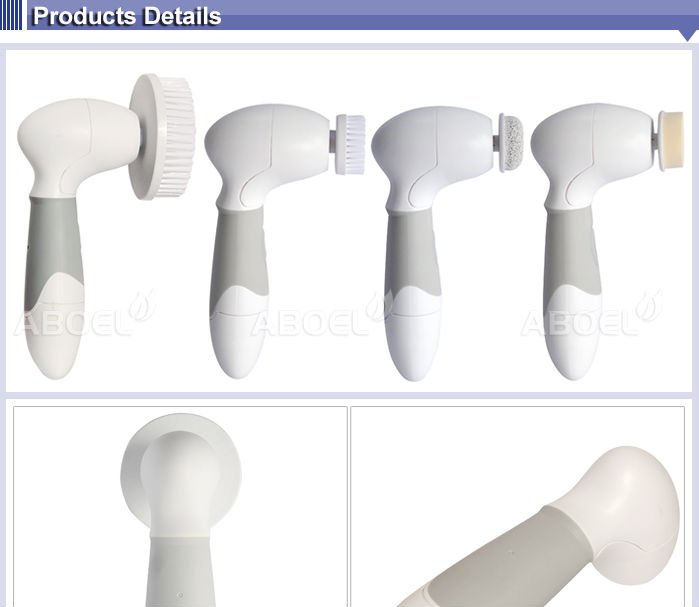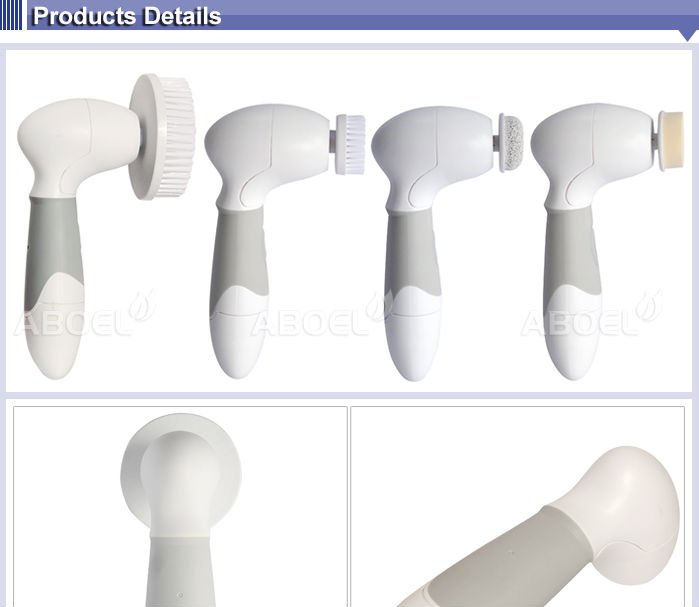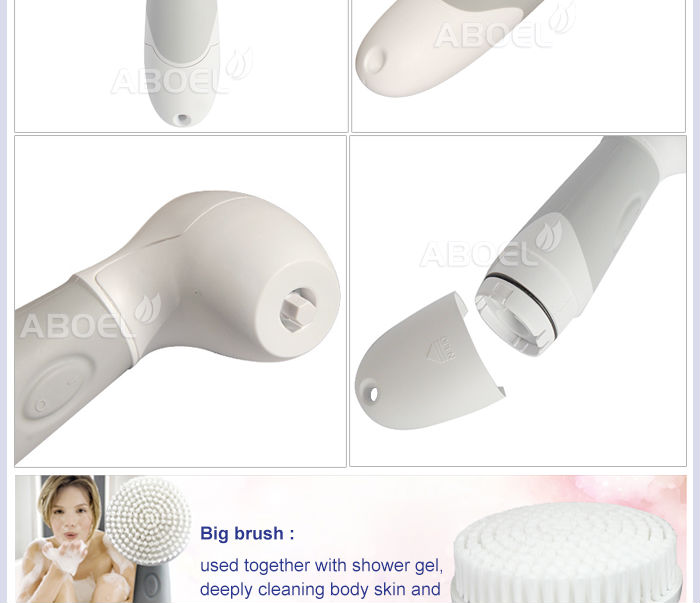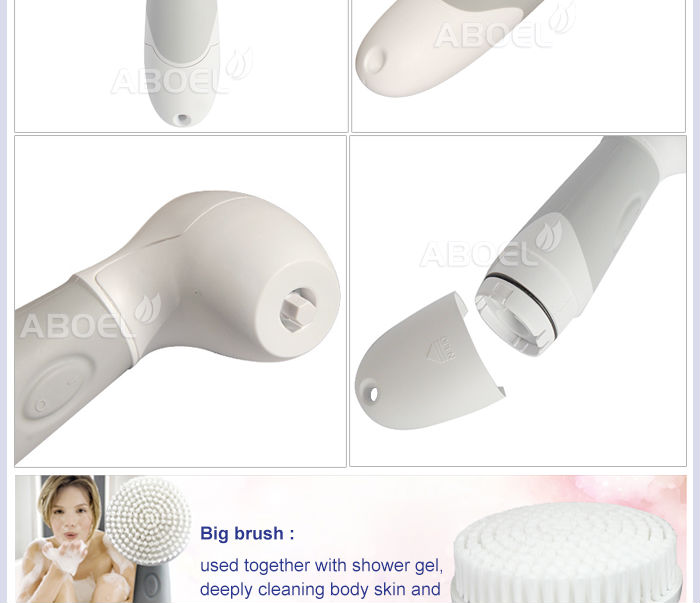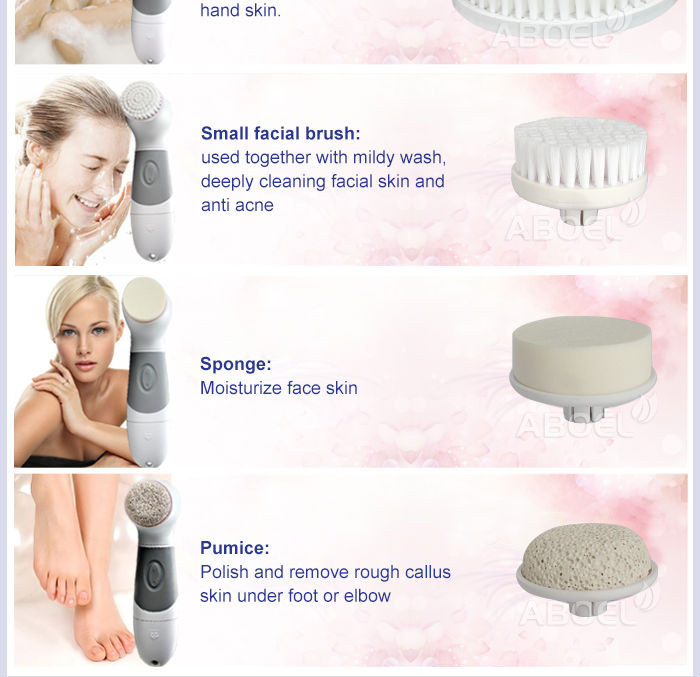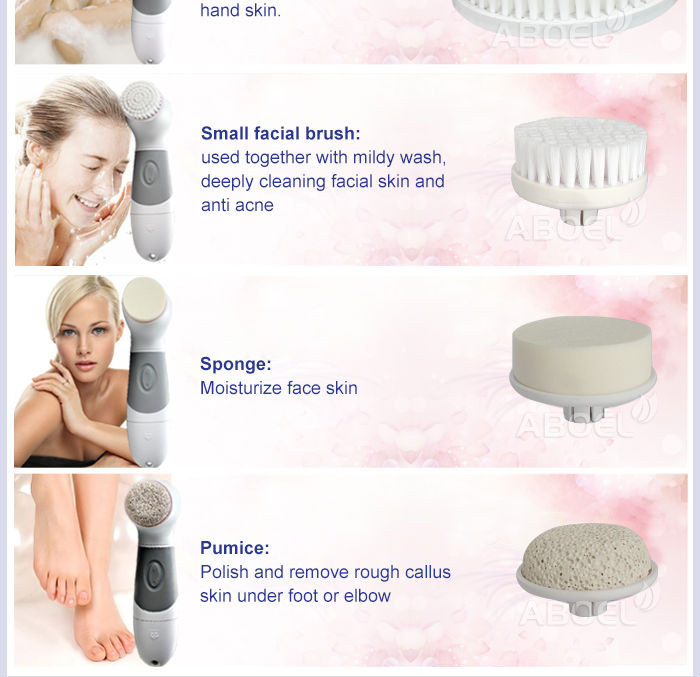 Operations
Simply attach either applicator to the massager and place it on the place you want. Different applicator gives you different relief to your body. You may choose based on your interests. It can activate your skin to have more healthy appearance.
Cleaning and Storing
1. Clean the unit and all the applicators each time after usage.
2. Do not use any alcohol, acetone, petrol, abrasive cleaning agents, etc. to clean the plastic parts.
3. Rinse the brush and sponge with warm water. Mild soap can be used for thorough cleaning.
4. Use a dry cloth to clean any residues remaining on unit body. Let all the parts air dry before storing.
Attention
If the unit is to be disposed for long time, make sure to take out the batteries.
Do not use the unit on dry, chapped skin or when you suffer skin diseases or skin irritations such as acne, sunburn, etc.
Do not press the brush too hard onto your face. Using the unit should always feel pleasant.
Regular cleaning of the appliance ensures optimal results and a longer life.
Keep the appliance away from children.
Use, for example, a headband to keep your hair away from your face in order to prevent your hair from getting tangled in the brush.